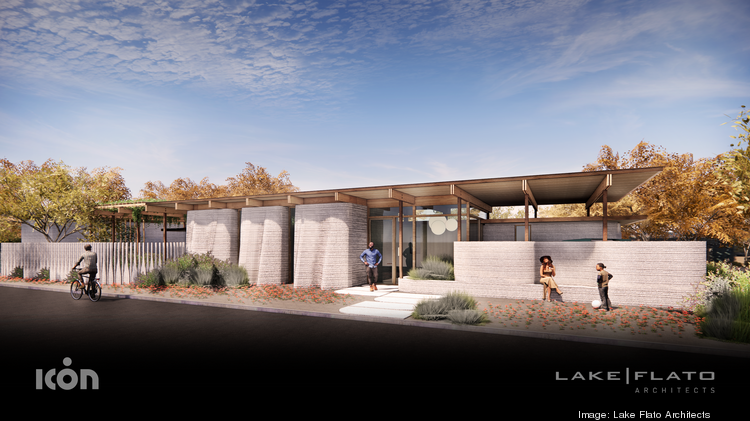 A rendering of the kind of housing Icon Technology is bringing online.
LAKE FLATO ARCHITECTS
Lennar Corp., the nation's largest homebuilder including in Orlando, will build its first 3D-printed homes in Austin, Texas, in partnership with a startup business.
The move could have big implications if Lennar expands 3D-printed homes to other markets. The idea is that these homes should be faster to build and less expensive.
Lennar is the top Orlando-area homebuilder based on housing starts, said OBJ's 2020 Central Florida Production and Custom Homebuilders List.
In August, Austin-based Icon Technology announced it closed a $207 million series B funding round to expand its 3D-printed homes technology. The company recently announced that Miami-based Lennar (NYSE: LEN) was among the investors in that capital round and the two will partner on a 100-home community near Austin. Designed by Denmark-based Bjarke Ingels Group, the project should break ground in 2022.
"Labor and material shortages are two of the biggest factors pushing the dream of home ownership out of reach for many American families," said Eric Feder, president of LENX, the venture capital division of Lennar. "Lennar has always expanded the boundaries of technological innovation to keep quality homes affordable, and 3D printing is an immensely encouraging approach. We are excited to collaborate with Icon to develop solutions to emerging challenges in the coming years."
Icon said its Vulcan construction system can build homes of up to 3,000 square feet. It claims to use longer-lasting building materials that allow the homes to withstand extreme weather.
Icon CEO Jason Ballard called the partnership with Lennar a "watershed moment" and a way to address the nation's housing shortage.
"By partnering with Icon and Lennar, we are able to see this new technology roll out to the widest possible audience," said Martin Voelkle, a partner at Bjarke Ingels Group. "The 3D-printed architecture and the photovoltaic roofs are innovations that are significant steps towards reducing waste in the construction process, as well as towards making our homes more resilient, sustainable and energy self-sufficient."
Source: https://www.bizjournals.com/orlando/news/2021/10/26/lennar-branches-into-3d-printed-homes-with-startup.html