Country living put together a list of what they foresee trending in 'Home Decor' for 2018. As we get closer to the New Year, here are 10 new trends.. and 5 that are 'over', just like 2017!
OUT: All-White Kitchens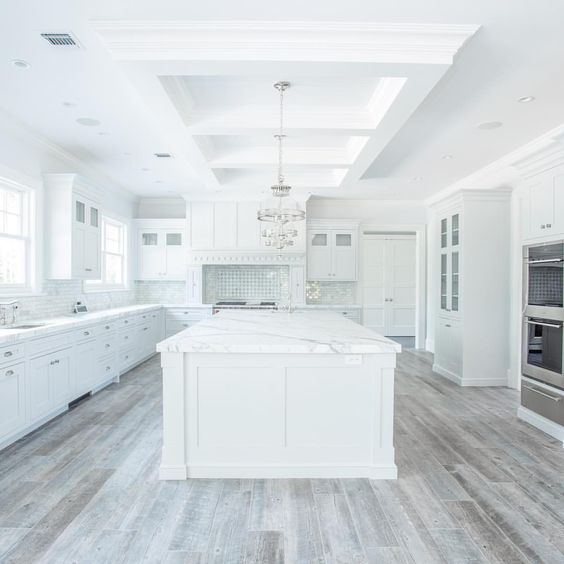 How can this be? This fresh, clean, all white kitchen trend is over? Maybe everyone realized this is a hard trend to keep.. well, white! Such a beautiful trend in every home style, we are sad to say goodbye but trends always come back in style.. so we'll say see you later!
IN: Jewel Tones
This is a trend, we totally saw following with us into the new year! Sherwin Williams hit the nail on the head with their pick for 2018 Color of the Year: SW 6496 Oceanside (Complete Color Pallet Here!); Pantone followed suite with their Color of the Year: Ultra Violet. *We love this photo, despite it contradicting an 'OUT' on this list - see Accent Walls below - this bedroom is an 'IN' for us!
OUT: White and Stainless Steel Sinks
Are you thinking, "So what in the world kind of sink is in?!"; Country Living reminds us about the glamorous copper farmhouse sinks that have been in trend, but to also watch out for concrete and stone styles too!
IN: Heavy Cabinetry
2017 we saw everyone doing away with closed kitchen cabinets - adding windows to cabinet doors or completely doing away with doors altogether (i.e open shelving). Is it a coincidence that the 2018 trend is shifting back to closing off our kitchen cabinets, along with doing away with all white kitchen concepts? Hmm, maybe we all realized it's hard to keep our kitchens print worthy all the while living this hectic thing called life!
OUT: Accent Walls
As we noted above, we are definitely contradicting this trending list by our jewel tone photo.. but we can't say we disagree with Lauren Liess, interior designer and host of HGTV's Best House on the Block, "Accent walls were big in the '80s and '90s and are an instant way to make a room look like it was decorated then, instead for interest, incorporate timeless texture such as millwork and wainscoting or, statement ceilings, one of Pinterest's top predictions and something we saw coming back in the fall."
IN: Statement Storage
2018 is a time for style and function to collide! High-end, stylish, functioning furniture is truly something to be desired!
OUT: Random Architectural Elements
Trends come in with a bang and take us by storm, according to Country Living and Liess, elements such as sliding barn doors and formal columns aren't for every home! "Architectural elements should be cohesive with the style of your home" - perfectly said!
IN: Shapely Furniture
As we mentioned before, trends come and go, and come back around full circle! 70's style couches have made their comeback!
OUT: Word Art
Let the sayings and inspiring quotes stay on pillows and in hallmark cards!
IN: Bold Floral Prints
Bold Floral + Plaid = Always in Style
IN: Brass
Brass is back - Mirrors, Faucets, Picture Frames, Cabinet Handles, Light Fixtures; endless possibilities!
IN: Black & White
We think this is another #ForeverIN because honestly, when are black and white not the perfect combination?
IN: Surprising Stone
"This spring, high-quality materials including marble, onyx, agate, and alabaster are trending," managing director Ryan Turf, "These beautiful, natural materials add texture and depth to any design. Timeless yet very modern and fresh." -- And we couldn't agree more!
IN: Natural Accents
Wood and earthy materials, are the perfect way to bring the outdoors in - another #ForeverIN
IN: Wabi-Sabi
The Wabi-Sabi House, a book about the Japanese art of finding beauty in imperfection. Wabi-sabi is not a decorating style, but rather a mindset, with no list of rules. Creating a wabi-sabi home is the result of developing our wabigokoro, or wabi mind and heart: living modestly, learning to be satisfied with life once we strip away the unnecessary, and living in the moment.
For more on 2018 trends from Country Living Magazine : Here!